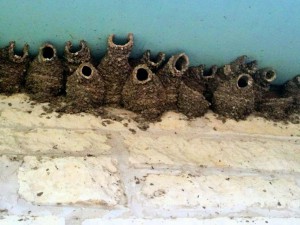 The cliff swallows have returned to Madroño Ranch. They've expanded their housing development under the western eave of the Main House to several eastern eaves, one of which we can see from inside the house. We watched them build their nests, swooping down to the creek in droves and hovering, beating their wings like oversized butterflies, then soaring back to the house, landing under the eave with grace and precision, using their tails as props as they constructed—with no hands!—their elegant gourd-shaped mud nests.
Then we watched their babies poke their heads out of the nests' mouths, opening their own mouths for food, their ever-busy, ever-graceful parents helping rid the air of the countless blood-hungry insects the recent rains have brought. I now know that the insides of these nests are also carefully padded with grass, having found a fallen nest on the porch last Tuesday morning. Also in the fallen nest were five tiny, almost featherless hatchlings, dead, and one eggshell, still improbably intact; it was so fragile that it disintegrated as I tried to pick it up. They hadn't had time to crush their first homes before their second home crashed to the floor. The disoriented parents flew back and forth, but as I sat on the porch that morning it seemed they'd submitted to the new reality and moved on.
The swallows are a nuisance; they leave a significant mess under their nests. But I love them for their athleticism and the magical moment in mornings and evenings when they fly in mesmerizing patterns from nest to air and back and out and back again. If you sit on the kitchen stoop or stand in the driveway, you can feel as if you are the nucleus of an atom, part of something coherent and powerful, as if their trajectories were weaving some kind of electrically charged nest around you. And then you go back inside and they seem to do their chittering, beautiful work without you just fine. You weren't the center after all, as pleasing as the illusion was.
One day during our recent trip to Big Bend National Park, we left the cool, dry air of the Chisos Basin and drove down to the Hot Springs Historic District by the Rio Grande. As we drove through the relentless desert, with not a tree to be seen, I realized that the innumerable yellow splotches I was seeing weren't blooms from the recent rain but yuccas killed by the drought—how, I wondered, could there be a drought in the desert? The air-conditioned car suddenly felt as fragile as an eggshell.
By the time we got to the historic district, it was 95 degrees and humid, and the idea of sitting in the hot springs had lost much of its appeal; besides, they were closed due to the rains. It wasn't quite a wash, though; we got to see the post office/store and barracks-style rooms built by J. O. Langford, a Mississippian who moved there sight unseen as a homesteader in 1909, with his pregnant wife and eighteen-month-old daughter, planning to turn the hot springs into a business. He had heard about them as he was seeking a cure for malaria in the high, dry air of Alpine, Texas. Several people had already tried to claim the place through the Homestead Act of 1862, though none had been able to meet the requirements, which included a minimum of three years residence on the property. A west Texas old-timer is reputed to have discouraged Langford: "Nothing down there but rattlesnakes and bandit Mexicans. And it's too far away—that damned country promises more and gives less than any other place I saw." It was an eleven-day journey from Alpine, the nearest town (now about a three-hour drive). The Langfords held out until 1912 and left, not returning until 1927. In 1942 Langford sold the property for inclusion in the new Big Bend National Park.
What were they thinking? Floods, drought, implacable sun, virtually no trees, snakes, bandits, two young children, loneliness as relentless as the sun. And yet they made some kind of living—enough to build the post office/store, the modest set of rooms for visitors, and a bathhouse (now gone) at the springs.
The next day we drove to the other end of the park to Lajitas, one of the weirdest places I've ever been. The road to Lajitas winds through an even fiercer landscape than the one to the hot springs, if that's possible—the soil toasted a lunar white, virtually nothing growing. We went through Terlingua, the dusty former quicksilver mining center, now the self-proclaimed Chili Capital of the World. Another ten miles toward great looming cliffs and we found ourselves in what could have been the set of an old western, but for the lush grass at the golf resort.
Although Lajitas has been a modestly populated and popular river crossing for centuries, it didn't get weird until the 1970s, when a Houston businessman bought and poured $100 million into it, building an airstrip for small jets, an 18-hole golf course, 92 luxury rooms, and an upscale restaurant. Not surprisingly, the place went bankrupt, but another optimistic Texas businessman bought it for $13.5 million or thereabouts. When we were there a few weeks ago, admittedly the beginning of the low summer season, the place was virtually empty. The cliffs continued to loom, and despite obviously steady watering, the golf course was beginning to turn brown under the imperious sun. The high in Lajitas yesterday was 104 degrees. What are they thinking?
On the one hand, I admire the moxie of these people who go into the vast west Texas landscape thinking they will somehow outsmart it, or at least wrest a modest living from it. On the other, I've become aware of the necessity in every life for submission to some other force. In Big Bend country, most people would find that force pretty hard to ignore. To quote Flannery O'Connor, "to the hard of hearing you shout, and for the blind you draw large and startling figures."
In recent months I've found that the power of Love is as startling as the force of nature. When I found that my life was as fragile as a nestling's egg, disintegrating as I tried to pick up its shattered pieces, something appeared, an unexpected padding, to help me into a new life. The realities of death and illness, grief and anger—the possibility that this new home will fall—never stop looming. But over time the steady swooping kindnesses have built an improbable nest in which I have been, for now (and what else is there?), protected.
Despite years of thinking and reading and analyzing, I've been overwhelmed by the steadiness of Love's flow, as powerful as the wind and water eroding the west Texas vastness and almost as impersonal, a force that needs an outlet, that seeks to move where it is not. I've stood in the midst of the swallows' enfolding flight and seen that it continues when I step out of it.
It's almost harder to submit to Love because it is personal: if I were to try to return gift for gift, prayer for prayer, I would run out of time long before finishing. (Also, I would have to learn how to knit, equally unlikely.) I get why those ornery people think they can vanquish the forces of nature—Texans have fashioned themselves as the most stubborn of the stubborn. For a while I drove myself crazy when I tried and failed to respond individually to every kindness. What was I thinking? I've discovered recently that people I don't know are praying for me. How can I possibly pay that back? I can't. What can I do instead? Say uncle. Throw up my hands. Submit, give thanks as often as possible, bring some beauty into the world.
And be cautious about buying west Texas real estate in the expectation of a quick return.
What we're reading
Heather: Joy Harjo, A Map to the Next World: Poems and Tales
Martin: Gary Giddins, Bing Crosby: A Pocketful of Dreams—The Early Years, 1903–1940