We thought it would be fun, and helpful, to share some of our favorite recipes for cooking bison here. More bison recipes are available on the American Grassfed Association Website.
Morgan Angelone of Austin's Dai Due graciously agreed to share her recipe for bison burgers, which have become a much-anticipated Friday night tradition at the hunting/fishing schools at Madroño Ranch.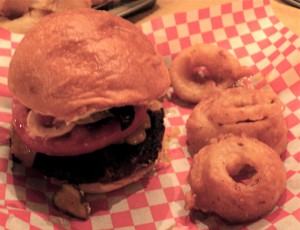 Morgan Angelone's Soon-to-Be-World-Famous Bison Burgers
4 lb. ground bison meat
1 lb. beef fat (ground)
6 eggs
4 oz. Worcestershire sauce
2 Tbsp. granulated garlic or 1 Tbsp. fresh garlic
4 Tbsp. fresh parsley (chopped)
4 Tbsp. tomato paste
1¼ oz. (about 3 Tbsp.) salt
½ oz. (about 1¼ Tbsp.) fresh cracked pepper
Mix all ingredients in a large bowl. Form into 12–16 patties, depending on how big you like your burgers. Grill over low-to-medium heat. (Cook a small "taster" first, and re-season to taste.) Enjoy!
* * *
Here's one from our friends and mentors Hugh and Sarah Fitzsimons of Thunder Heart Ranch in Carrizo Springs TX.
Bison Kebabs
2 lb. bison tenderloin
1 lemon (halved)
olive oil
salt and pepper
sweet onions
red, green, and yellow bell peppers
Cut tenderloin into large chunks and place in one layer on a plate or in a shallow dish. Drizzle with lemon juice and olive oil, then season to taste with salt and pepper. Refrigerate for one hour. Chop onions and peppers (discarding seeds) into large chunks. Alternately thread tenderloin and vegetable chunks onto skewers (if using wood skewers, soak them overnight in water so they won't catch fire on the grill). Grill for several minutes on each side over low-to-medium heat.