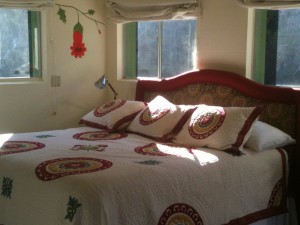 Please note: As of August 2015, Madroño Ranch: A Center for Writing, Art, and the Environment is no longer accepting applications for residencies. We are sorry for any inconvenience.
Residents stay in either of two cabins overlooking a small lake at the back end of the property. The larger of the two has two bedrooms, each with twin beds and a full bathroom, and a shared kitchen; the smaller of the two has one bedroom with a king bed, a full bathroom, and a small kitchen. Laundry facilities and a wireless Internet network, which residents are welcome to use, are available at the Main House.
Madroño Ranch is well suited for bird-watching, hiking, mountain biking, swimming, and fishing; residents may want to bring binoculars, sturdy hiking/walking shoes, a hat, sunscreen, a bicycle, swimwear, and fishing equipment. We do not permit firearms, hunting, or visitors. Be advised that the ranch is in a rural, isolated setting which can feel extremely remote, and a residence can be a profoundly solitary experience.
A feature on the ranch by Austin novelist Amanda Eyre Ward was the cover story of the June 2014 issue of Tribeza, a magazine devoted to arts and culture in Austin. The story, illustrated with beautiful photographs by Wynn Myers, recounts Amanda's experience as a resident at Madroño Ranch: A Center for Writing, Art, and the Environment, and includes testimonials from several other former residents. Another former resident, photographer and filmmaker Graham Burns, published a portfolio of pictures of the ranch on his website.
Residents should also be aware that Madroño Ranch is a working ranch; we have a herd of bison, laying hens, and a variety of wild fauna (feral hogs; whitetail, axis, and sika deer; raccoons; turkeys; snakes; et al.), some of them potentially dangerous. In particular, we ask residents to keep a safe distance from the bison; they are not usually aggressive, but they are large animals, and can cause serious injury. In addition, much of the ranch's 1,500 acres is fairly steep and rugged, and can be challenging, and the nearest medical facilities are in Kerrville, approximately twenty miles away.
Our eventual hope is to feed our residents, to the greatest extent possible, with food grown on the ranch. In the meantime, we'll supply some of the food, typically including staples such as flour, rice, sugar, and beans—all of them organic and locally sourced whenever possible—but residents will need to bring other foods and do the cooking themselves. Please note that we may not be able to satisfy unusual dietary requirements. We also supply bedclothes, towels, cookware, dishes, and other essentials.
The ranch manager and his family live on the ranch, so we also ask residents to be respectful of their privacy and quiet, and drive slowly on our caliche roads. We regret that we cannot allow residents to invite visitors onto the ranch without explicit permission.
Please note that residents are responsible for arranging their own transportation to and from the ranch, which is about an hour and a half from San Antonio and two and a half hours from Austin. Most residents will want to have their own vehicle at the ranch for supply runs to nearby towns and for getting around the ranch roads, which can be quite rough.