May 27, 2015: We are sorry to report that we are no longer selling bison meat. We apologize for any inconvenience, and suggest that those interested in buying high-quality, grass-fed bison meat check with our good friends at Thunder Heart Bison.
Madroño Ranch bison meat is now available for purchase in Austin at the Peoples Pharmacy stores at 4018 North Lamar and 3801B South Lamar, and at the farm-stand market from 9 a.m. to 1 p.m. on Wednesdays and Saturdays at Boggy Creek Farm at 3414 Lyons Road. We are also proud to supply Farmhouse Delivery, a CSA (community supported agriculture) delivery service in Austin, and Bufalo Bob's Chalupas, at 3639 R.R. 620 N. in Austin.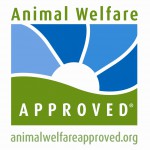 We are proud that Madroño Ranch bison meat has gained certification from Animal Welfare Approved and the American Grassfed Association.
The AWA seal is your assurance that our bison meat has been humanely raised and harvested, and that our practices meet the nation's most rigorous and progressive animal care standards.

AGA certification (check out our AGA producer listing) is your assurance that Madroño Ranch bison have eaten nothing but their mother's milk and fresh grass or grass-type hay from their birth.
In addition, Madroño Ranch was featured in an article on local meat purveyors in the May 2012 issue of Austin's Tribeza magazine.
Meat from our grass-fed bison is vastly superior, in flavor and in health benefits, to meat from grain-fed animals. Here's why:
Bison meat generally has more protein, iron, and nutrients than beef or chicken.
Bison meat is lower in fat and calories than beef or chicken.
Our bison range freely on our 1,500-acre ranch near Medina, in the beautiful Texas Hill Country, and are never "finished" on industrial feedlots.
Our bison are never injected with or fed growth hormones, steroids, or any other supplements.
To ensure the quality of our meat and reduce stress on the animals, all bison are field-harvested on the ranch under the supervision of a licensed inspector from the Texas Department of Health.
The result is the finest premium-grade bison meat you can buy, from right here in the Hill Country. Use it any way you want: in burgers, chili, meat sauce, soups. You–and those you cook for–will love it!