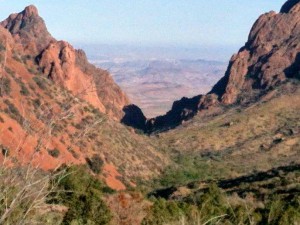 Last week we spent several days at the Chisos Mountains Lodge, in Big Bend National Park, with our friends Bruce and Margaret Bennett and Peter and Kay Willcox. (Longtime readers may recall that Bruce was my hiking buddy on coast-to-coast treks across northern England in 2009 and 2011.)
The Chisos Basin, the bowl in which the lodge sits, is more than a mile above sea level. The only break in the surrounding ring of volcanic mountains is the Window, a triangular notch through which one can see the Chihuahuan desert thousands of feet below, and, on clear nights, the lights of Study Butte and Terlingua, some fifteen miles away. (That's it in the photo above.) It's no accident that the dining room at the lodge, and many of the guest rooms, look out over the Window; it is mesmerizing.
We spent the cool, sunny mornings hiking the Lost Mine and Laguna Meadows trails, which begin in the basin. On Friday afternoon we drove down to the Hot Springs Historic District and Rio Grande Village, and on Saturday afternoon we drove down to Terlingua and then on to Lajitas. We saw various flycatchers, Western and summer tanagers, Mexican jays, canyon towhees, a Say's phoebe, a blue grosbeak, a Western kingbird, a black-footed ferret, and several rabbits, in addition to a disgruntled-looking coyote padding along the road in Rio Grande Village; we saw centuries-old pictographs and petroglyphs at Hot Springs. We ate dinner at the truly surreal Lajitas Golf Resort and Spa, at which an episode of the reality TV show Ammo and Attitude was being filmed. (No, we'd never heard of it either.)
All of this felt like pure gift to Heather and me, given the events of the last six months, which as most of you know have been hard ones for us. At the beginning of December Heather learned that the source of the pain in her left hip that had been bothering her for a couple of months was in fact a stage 4 cancer that had already metastasized to the bones in her pelvis and spine. Then her father, whose own health had been declining since the death of her mother two years ago, died a week before Christmas.
Heather's cancer is still officially of unknown origin, though molecular analysis indicated a 90 percent probability that it was breast cancer—despite the fact that years of mammograms and, more recently, a battery of tests and scans had found no tumor.
In January, she began a regimen of four chemotherapy infusions, one every three weeks, combined with monthly infusions of Zometa, a bone strengthener developed to treat osteoporosis. At times we wondered if the treatments were worse than the disease; the chemo affected her palate to such an extent that few if any foods tasted good, and the Zometa brought on agonizing flu-like symptoms: aches, joint pain, fatigue.
Heather lost about twenty-five pounds, much of it muscle; she had always been an athlete, and the ensuing weakness, which affected her posture and her gait, was in some ways much harder to take than the loss of her beautiful hair, much as she hated that obvious and public signifier of illness. (After her hair had started to fall out, she had me shave her head, which I must say was not a duty I had ever imagined performing on my wife; after I finished the job, we joked that if she just got a few tattoos and piercings, she'd be indistinguishable from much of the rest of the population of Austin.)
Perhaps the most tiresome thing about Heather's illness—aside from the physical effects, of course—was how boring it was. We found ourselves utterly unable to focus on anything except her illness. Events in the world outside us passed virtually unnoticed; we found ourselves unable to concentrate on anything—writing, reading, you name it—beyond the reality of illness and treatment. We were locked in the dark house of her cancer, and we couldn't even imagine the world outside.
After her fourth chemo infusion in March, she got a break of five weeks before returning to the M. D. Anderson Cancer Center in Houston for testing and evaluation. At Anderson she had a PET scan which failed to find even a single lesion; she was, unbelievably, completely cancer free.
It was as if all the doors and windows of the house in which we'd been shut suddenly flew open, and we could see the sky and trees and streets and people outside. Our trip to Big Bend marked our first tentative steps back into the beautiful, messed-up, complicated world.
The Window is mesmerizing. Like any gap in any wall, any break in any symmetrical pattern, it naturally drew our eyes; we always want to see beyond our immediate surroundings, to see behind the curtain. For us, emerging from the claustrophobia of Heather's illness, the view from the Window was a symbol of the vastness, the wholeness, that we had been unable to imagine during these last six months. But of course it was there all along, waiting patiently for us to lift our heads and look.
What we're reading
Heather: Yann Martel, Beatrice and Virgil
Martin: Charles Mann, 1491: New Revelations of the Americas Before Columbus