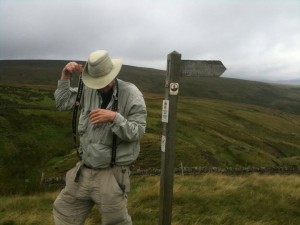 In the three weeks since our last post, I've been off backpacking some 200 miles across northern England with my friend Bruce Bennett, a veteran of several previous coast-to-coast walks and a man who knows the Lake District better than many natives.
Two Septembers ago, as I related in an earlier post, Bruce and I hiked from Ravenglass, on the Irish Sea, to Scarborough, on the North Sea. This time we followed a different route, once again originating in Ravenglass but heading in a more northeasterly direction to Lindisfarne, an island off the Northumberland coast, just below the Scottish border.
This year's trip was a good bit more exciting, and not necessarily in a good way. We endured the usual blisters and blackened toenails, but also a scary fall; the gale-force remnants of Hurricane Katia (that's Bruce in the photo above, being buffeted by the wind as we made our way from Garrigill to Allendale Town); mild hypothermia; an almost constant rain (not that I expect much sympathy on the latter from Texans who've been dealing with heat, drought, and wildfires in our absence); and, perhaps cruelest of all, an ice-cold shower in Hexham, as our crummy hotel's hot-water heater was broken. In addition, the book we were more or less using as our guide, Lakeland to Lindisfarne: A Coast to Coast Walk from Ravenglass to Holy Island, by a fellow named John Gillham, proved to be frustratingly vague and hard to follow.
We certainly enjoyed some wonderful moments along the way: a beautiful day's hike from Wasdale Head to Elterwater via Styhead Tarn, Sprinkling Tarn, and Angle Tarn, with incredible views of the Lake District from Great Gable; a convivial dinner with Heather's English cousin Tony Jowett at the Haweswater Hotel; the unexpectedly fabulous (except for the squishy beds!) Temple Sowerby House; sharing a breakfast table at our B&B above the Garrigill post office with a young German couple who were hiking the Pennine Way from south to north; a conversation in the bar of the Cheviot Hotel in Bellingham with our new friends Ian, an Anglican priest, and his wife Jackie, who live in Wales; the lovely Oronsay House in the charming and bustling town of Alnwick (pronounced "Annick"); beautiful walks beside the River Coquet and the River Aln; our customary pint of cider in the local pub at the end of a long day's tramp; up-close views of Dunstanburgh, Bamburgh, and Lindisfarne castles on the North Sea coast; and more. On balance, however, I'd have to say that this year's walk was not an experience that either of us would wish to repeat.
Indeed, when Bruce's wife Margaret picked us up at the airport upon our return to Austin last Saturday, she asked, "Did you guys have any fun at all?" After a brief but thoughtful pause, Bruce and I responded that yes, we did, but I think our salient feeling about the trip is a good deal of pride in just having survived the bloody thing.
And I use the term "bloody" advisedly. On our very first day on the trail, as we made our way to Wasdale Head, we decided to deviate from Gillham's route along Whinn Rigg and walk up the eastern shore of Wastwater instead, since it was foggy and raining up top. What we didn't realize was that the footpath shown on our Ordnance Survey map as proceeding up the eastern shore of the lake soon disappeared in a huge field of enormous, razor-sharp, rain-slick rocks. It took us about an hour to pick our way slowly and cautiously across this pile of scree, during which I almost fell many times and Bruce fell twice; the first time, he gashed his left hand pretty deeply, cut his eyebrow, and gave himself what quickly turned into a spectacular shiner, though he somehow managed to avoid breaking his glasses. (We decided that, if anyone asked about his injuries, we'd attribute them to a bar fight, but no one did.)
Three days later, while making our way from Troutbeck to Haweswater, we had another, erm, exciting experience. As we were ascending Nan Bield Pass, we encountered howling winds so strong (Bruce estimated them at 70 miles per hour, though of course we had no way to measure them) that we each got knocked off our feet, and I almost—almost—became accustomed to the eerie sensation of the wind picking up my backpack and trying to move me a few feet sideways. Just as Bruce reached the summit, a particularly strong gust from behind propelled him stumbling over the top; when he regained his balance, he threw his head back and yelled, uncharacteristically (Bruce is usually the mildest of men), "This is un-f—ing-believable!" Whereupon he turned around and saw the shocked faces of an English family who had preceded us up the pass and were huddled in the little shelter at the top. (He apologized profusely for his salty language.)
A couple of days after that experience, we had our third and final scare. We were hiking over the North Pennines from Temple Sowerby to Garrigill on a day that quickly turned cold and wet and windy as we were ascending Cross Fell. With limited visibility, we lost the path in the rain and fog, and found ourselves wandering about the top of the fell for a half hour or so, hoping to strike the trail again. By the time we did, we were both soaked and freezing; with our teeth chattering uncontrollably, we stumbled into Greg's Hut, an old miner's shack maintained as a shelter for walkers.
Greg's Hut was as chilly and bleak and bare as it is possible for a hut to be; I had been fantasizing about teakettles and crackling fires, but the only furniture in the place was a few plastic stacking chairs scattered about. Nonetheless, we took advantage of the fact that it was out of the wind and rain to exchange our soaked shirts and socks for dry, put on every layer we had with us, and eat all the Kit-Kats and apples we had with us before venturing back out. I don't know if Greg's Hut actually saved our lives, but it might have. (We bought a couple of those airline-sized bottles of Scotch at the next opportunity and carried them with us for the rest of the trip, in case of similar emergency, though we didn't have occasion to use them, thank goodness.)
All in all, it was quite an adventure, and it was a relief to return to Austin, hot weather and all. A mutual friend reports that Bruce said he's never doing one of these trips again, but we'll see how he feels in a couple of years. If he's game for another coast-to-coast and still needs an out-of-shape middle-aged sidekick to accompany him, well, he knows how to reach me.
What we're reading
Heather: Emma Marris, Rambunctious Garden: Saving Nature in a Post-Wild World
Martin: Anthony Trollope, Barchester Towers