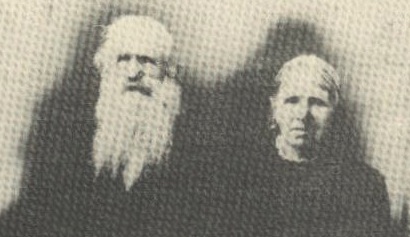 For all of my whingeing about the difficulties of adjusting to life in Texas, even after thirty years here, I know I've had it pretty easy, especially compared to the nineteenth-century settlers who endured almost unimaginable hardships while trying to claw a tenuous living out of the deceptively thin Hill Country topsoil. For one thing, I speak the same language (more or less) as the natives. For another thing, those natives aren't actively trying to kill me—well, with the exception of the occasional jackass in a pickup speeding down MoPac. Finally, and arguably most important of all, I live here after the invention of air conditioning.
Many of those Hill Country settlers were German immigrants, and they and their descendants have played a prominent role in the region's history over the last century and a half. I learned something about them when I started working at the Texas State Historical Association back in the mid-1980s, as my initial assignment was writing entries on Gillespie County for the Handbook of Texas.
I knew little to nothing of Texas history at the time, but I had always enjoyed our occasional day trips to the charming little town of Fredericksburg—people actually spoke German in the shops and restaurants!—and leaped at the opportunity to learn more about it. Perhaps inevitably, the more I learned, the more fascinated I became.
Here's the one-paragraph version: In the mid-1840s, the Adelsverein, an organization founded by a group of German nobles to promote colonization in Texas, shipped over more than 7,000 settlers, most of them peasants. The first Europeans in what is now Gillespie County arrived in 1846, when a group of 120 German settlers led by John O. Meusebach established Fredericksburg on Barons Creek and Town Creek, near the Pedernales River. The little community thrived and became the county seat when the legislature created Gillespie County in 1848. Two years later, the population of the town had grown to almost a thousand; in that same year, three-quarters of the 1,235 whites in Gillespie County were of foreign extraction, almost all of them German.
Though little remembered today, surely one of the most remarkable was Christian Althaus, one of the first doctors in Fredericksburg. (The first was Wilhelm Keidel.) While I myself didn't write the Handbook entry on Althaus—that honor fell to the Barbara Donalson Althaus, who obviously had a more personal connection with her subject—I'm cribbing from it shamelessly in this post.
Johann Christian Althaus was born in Erndtebrück, Westphalia, and served as a medic in the Prussian army before emigrating to Texas. He sailed from Antwerp, Belgium, on the York, arriving in Indianola in 1846 and making his way to Fredericksburg by the time town lots were distributed the following year. Also in 1847, he married a fellow immigrant, Anna Maria Elisabetha (Elizabeth) Behrens; they eventually had seven children. Initially, doctoring seems to have been at best a part-time occupation for Althaus; he also worked as a saddle-maker and as an Indian agent at Fort Martin Scott, two miles east of town, though in the 1850 census he was listed as a carpenter.
Althaus seems, like many of his fellow German settlers, to have cultivated a friendly relationship with the local Indians. He was one of the signers of the Meusebach-Comanche Treaty, which virtually eliminated fears of Indian attacks, and he eventually learned several Indian dialects. He treated Indians as well as whites in his medical practice, following the advice of an Indian friend who advised him to "be friendly and never pull a gun." (This still strikes me as good advice in most circumstances.)
After ten years in Fredericksburg, Althaus determined to try his hand at ranching. He and the family moved to Cave Creek, several miles northeast of town, where he built a two-room stone house on top of a spring in which he kept his medicines cool. (The house, still standing in modified form on Koennecke-Eckhardt Road, off Ranch Road 1631, is now part of the Historic American Buildings Survey of the Library of Congress.) Althaus, like many of his fellow Germans, opposed the "peculiar institution" of slavery and secession—an unpopular stance with many of their fellow Texans, and contributed to the legendary insularity of the Hill Country Germans—but helped organize the home guard and served as a county commissioner during the Civil War.
And all this time he was practicing medicine, too, as Barbara Donalson Althaus wrote in her Handbook entry:
He served as a community doctor until the 1880s, and his practice of medicine was carried on under many difficulties. Medical instruments were scarce; before Althaus amputated a crushed arm, he had to have the operating instrument (now at Pioneer Museum, Fredericksburg) made by a local blacksmith. He used locally grown herbs, roots, and bark to make his own medicines. When the government sent him to Bandera to treat diphtheria patients, he used medicine he made from honey, almond juice, and the bark of the blackjack tree. Thirty-four out of thirty-five people survived. Elizabeth Althaus not only raised seven children but also ran a makeshift hospital, orphanage, and shelter for wayfarers in their home. In addition she tended the farm during her husband's trips, which sometimes lasted for weeks.
Althaus farmed and ranched and operated a dairy on the Cave Creek property until the 1880s, when he moved a few miles east. In 1883 he was among the founders of St. Paul Lutheran Church in Cave Creek, which calls itself "the oldest rural church in Gillespie County," and volunteered to help haul the lumber used to build the church from Austin, seventy-five miles away. (At this time he was in his sixties, remember.) He died in 1915, at the age of ninety-four, and was buried beside the church he helped establish.
All in all, a life worthy of remembrance and even celebration, I'm sure you'll agree. And a life that puts my own in useful perspective. The high in Austin today will be in the mid-90s, but I'm typing this while sitting in a comfortable chair in our well-cooled house; when I sweat, it's usually because I choose to, either by walking Chula the Goggle-Eyed Ricochet Hound up and down the surrounding hills in the morning, or by going to a nearby gym. The food we eat is plentiful and healthful, almost exclusively grown by local farmers; Heather is fixing a breakfast of home-made polenta (made with cornmeal from Boggy Creek Farm) topped by a poached egg from our happy Madroño Ranch hens. I'm getting over a summer cold, after several days of pounding decongestants and expectorants.
Do I wish I were living in nineteenth-century Texas? No and hell no. But I do wish that I had had the opportunity to meet people like Christian (and Elizabeth) Althaus in person. I know I could learn much from their courage and perseverance and goodness.
What we're reading
Heather: Jonathan Rosen, The Talmud and the Internet: A Journey Between Worlds
Martin: Charles C. Mann, 1491: New Revelations of the Americas Before Columbus (still!)