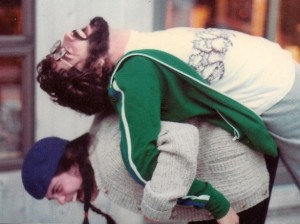 Yesterday was the solstice, the shortest day of the year; Heather's father died last Sunday; and we've received various other pieces of bad news over the last few weeks. It would be easy, under the circumstances, to give way to fear and sorrow and the belief that we are surrounded by darkness. But I want instead, on the eve of Christmas Eve, and in the wake of Heather's last post, to talk about light, in particular the light and joy and comfort of love, in particular our love.
Heather and I were classmates and fellow English majors at Williams College. We started dating during the spring of our senior year, which means, for those of you keeping score at home, that we've been together for thirty years now, though we didn't bother to get married until 1985. But I first noticed her during our sophomore year, when we were both taking a course called "Religion and Literature," taught by a formidable scholar named Barbara Nadel.
Now, neither of us had any business being in this course; we knew very little about literature, despite having declared ourselves English majors, and even less about religion. The course was one of those three-hour seminars that met one afternoon a week, while the syllabus included inscrutable writers like Paul Tillich, Bernard Meland, and Wallace Stevens, which meant that at the end of each class I knew even less than I had at the beginning. The upside was that, since I never had the slightest idea what was going on, I had lots of time to stare at girls, and Heather—glamorous, sophisticated, obviously way out of my league—immediately caught my eye.
She clinched the deal, unwittingly, on the last day of the semester. Babs Nadel, as we irreverently referred to her, had assigned us a final paper, and Heather, as she admitted later, had put it off until she was forced to stay up all the previous night writing it. Moreover, she had come down with a severe cold, which left her severely congested. The combination of lack of sleep and a head full of cotton wool meant that when she came to class that afternoon she sought out the largest individual in class and sat behind him, hoping to avoid catching Babs's eye. (Babs, terrifyingly, would call on people at random to answer the incomprehensible questions she posed.)
Somehow, Heather had gone that entire semester without once being called on, but of course her number came up on the last day of class. Babs asked some particularly knotty question—I don't remember what it was; probably something about Stevens—and called on Heather, who had by now slipped into something approaching a comatose state.
Heather later described the awful sensation of gradually coming to consciousness to realize that everyone in the room was staring at her expectantly, apparently awaiting her response to a question she hadn't even heard. She completely whiffed, of course, and it was at that moment that I said to myself, "THAT's the girl for me—she'll never know what hit her!" It took me another two years to wear down her resistance—today I'd probably be arrested as a stalker—but when she finally crumbled, just a few months before we graduated, she quite literally made me the happiest young man in the world.
(Warning to our kids: you probably shouldn't read this paragraph.) When we first started dating, of course, we were completely in lust with each other, in that embarrassingly hormonal way of young lovers. (When recalling our younger selves, I always think of the Austin Lounge Lizards song "The Golden Triangle," which contains the lyric "two bodies were thinking with only one gland.")
Eventually, and perhaps inevitably, that intense youthful passion settled into a steadier, more consistent condition, something like, well, love. We've certainly had our ups and downs since then, but the former have vastly outnumbered the latter. We're still happily married (to each other, I mean); we have three beautiful, thoughtful, and compassionate children; in Madroño Ranch we've found a fulfilling, challenging, and just-plain-fun project on which to collaborate now that our nest has emptied. Life, in short, is pretty damn good.
Except, of course, when it isn't. This is traditionally the season of giving, but this year it has been even more disjointed and chaotic than usual, and we haven't been feeling terribly festive. I finally decided, just yesterday morning, that the best and most meaningful gift I could give Heather was an attempt to tell her how much I love her, and how much she's meant to me.
Heather has given me gifts all year round, for thirty years now. The greatest gift of all, however, is one that I have not yet fully unwrapped. I've always been of a somewhat gloomy disposition, inclined to see the downside of most situations. ("Expect the worst and you're seldom disappointed" has been my motto.) Heather, on the other hand, always projects optimism, always expects things to turn out better rather than worse. When I was younger, and for an embarrassingly long time, I tended to think that such a stance was an indication of shallowness and/or naïveté, but slowly, over our years together, I've come to realize that it is exactly the opposite. It is, in fact, a conscious and deliberate choice, a rigorous and gallant determination not to give in to darkness and inactivity, but to bestow grace and hope by stubbornly shining light on everyone and everything around you.
I know that my pessimism has often frustrated and disappointed her, and I'm not sure I've ever told her how much I admire her patience, her forgiveness, her determination, her spirit, her steadfastness, her depth. I have learned so much from her; I still have so much to learn. Sometimes it can seem that darkness is all there is, but now I know better. Now I know that where there is love, there is always light.
What we're reading
Heather: Dorothy Sayers, Gaudy Night
Martin: Bill Bryson, At Home: A Short History of Private Life