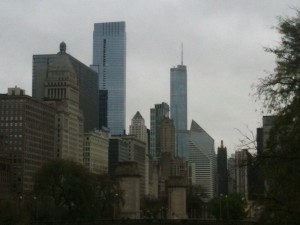 The Windy City. Hog Butcher for the World. City of the Big Shoulders. The Second City. Mrs. O'Leary's cow and Harry Caray's "Holy cow!" Richard Daley and Mike Ditka. Muddy Waters and Howlin' Wolf. Frank Lloyd Wright and Al Capone. "Let's play two!" and the Chicago Seven. Grain elevators and packing houses and railroad yards and skyscrapers.
That's right, Heather and I are in windy, chilly (well, at least by Texas standards) Chicago, where we're attending the annual conference of the Alliance of Artists Communities. The Alliance, based in Providence, Rhode Island, is a membership association of more than a thousand residency programs across the country and internationally, ranging from well-established giants of the field like the MacDowell Colony and Yaddo to tiny, brand-new programs like, uh, Madroño Ranch.
Chicago is an iconic and quintessentially American city, despite (or perhaps because of) its myriad immigrant communities. Lacking the coastal location (though that is one big frickin' lake!) and consequent internationalist perspective of, say, New York, Boston, Los Angeles, and San Francisco, it is perhaps the most quintessentially American of all our great cities; famously, it was the site of the 1893 World's Columbian Exposition, a celebration of the 400th anniversary of the accidental arrival in the Bahamas of a crackpot Italian mariner in the service of the Spanish monarchy who thought he had found southeastern Asia.
We've been looking forward to this conference for months, for several reasons: first, having attended several previous Alliance conferences, we knew it would be a fruitful and inspiring gathering, one that would leave us charged up and full of new ideas for Madroño Ranch; second, our younger daughter is flying up from Kenyon College in Ohio to spend a couple of nights with us in the city; and third, despite its undeniable greatness, neither Heather nor I had ever been to Chicago, unless you count the many hours I spent stuck at O'Hare Airport during my college years trying to travel from Albany to San Francisco or vice versa over the Christmas holiday break. Now that we're finally here, we're enjoying being in a real big city (sorry, Austin), at least for a little while, though we're trying hard not to look like country bumpkins while we're here.
The conference has also afforded us the chance to reconnect with other members of our peculiar little tribe who have quickly become dear and trusted friends: Caitlin Strokosch, the apparently inexhaustible executive director of the Alliance; Meredith Winer, a printmaker whose TRANSIT Residency is part of a rich cultural mix in Chicago's Logan Square neighborhood; Liz Engelman, who divides her time between directing the Tofte Lake Center at Norm's Fish Camp in Minnesota and working as the alumnae relations coordinator for Hedgebrook, on Washington's Whidbey Island, when she's not working as a freelance dramaturg; and Brad and Amanda Kik, founders and directors of the extremely cool Institute for Sustainable Living, Art & Natural Design (ISLAND) in rural Michigan, whose mission ("connecting people with nature, art, and community") obviously resonates strongly with what we hope to achieve at Madroño Ranch. (At Brad's request, I brought him a bottle of Balcones Distilling's Baby Blue corn whisky, which is apparently unavailable in Bellaire, Michigan; we're returning to Austin with two handsome blaze-orange ISLAND caps in return.)
The conference itself is an irresistible (to us, at least; maybe you have to be an art-residency nerd to appreciate it fully) combination of practicality and pleasure. The schedule is packed—packed, I tell you—with fun and thought-provoking stuff. Austin's own delightful Sara Hickman performed at the opening reception on Wednesday night. (The proceeds from her new compilation CD, The Best of Times, benefit the Theatre Action Project, where both of our daughters have worked.) The keynote speakers include Alex Kotlowitz, author of the bestselling There Are No Children Here and coproducer of the new documentary The Interrupters; Luis Alberto Urrea, author of The Devil's Highway; and Audrey Niffenegger, visual artist and author of The Time Traveler's Wife. The breakout sessions to which we particularly looked forward included "Engaging Local Communities: Artist Residencies and the Relevance of Place"; "Earned Revenue and Artist Residencies"; "Supporting a Creative Practice: Solitude, Solidarity, and Social Engagement"; "Taking Stock: Outcome, Assessment, and Measuring the Unmeasurable"; and "Where Art Meets Earth: Integrating Arts, Ecology, and Communities," led by our buddy Brad.
During the past couple of weeks we sometimes wondered whether we could really afford the time to come to Chicago, especially since it meant missing the Texas Book Festival, one of our favorite annual events in Austin, and since, after flying back to Austin Sunday night, we're going to have to be on the road at 5 a.m. on Monday morning to make it out to the ranch in time for our second bison harvest. But we're glad we came. We couldn't pass up the chance to visit with and learn from old friends and new—not to mention the chance to see Thea, and to explore a new and fascinating city.
What we're reading
Heather: Michael Pollan, Second Nature: A Gardener's Education
Martin: Denise Markonish (ed.), Badlands: New Horizons in Landscape