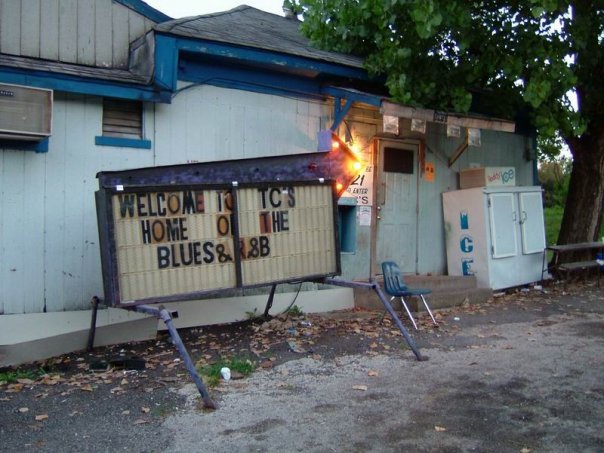 As regular readers of this blog know, we believe firmly in the pleasures—and, even more, the importance—of cultivating the kind of deep knowledge of people and landmarks and events, present and past, that only comes with long residence in a particular locale. Neither Heather nor I is a native Austinite, but we've lived here almost thirty years; and while the city has changed and grown dramatically during that time (not always in ways we'd wish), most of the time I can convince myself that I have a pretty good sense of it.
In reality, however, there are plenty of places in Austin where I feel, well, out of place. My knowledge of the city has been largely restricted to just a few neighborhoods: West Austin and Tarrytown, the UT campus, downtown, South Congress. Though I drove a Meals on Wheels route in and around the Rosewood neighborhood for many years, and though two of our kids now live east of Interstate 35, most of the traditionally African American East Side remains a blank spot on my mental map of Austin. I can still discover pockets of mystery and surprise within the city, places of unexpected incongruities and collisions.
I discovered one such place a few years ago while driving my Meals on Wheels route. In recent years, young white families and individuals have been moving east of the interstate in search of affordable real estate. As a result, the East Side has become hip: sort of the local equivalent of Brooklyn. But there are still parts of the East Side that have resisted gentrification, that still look much the way I imagine they did fifty or more years ago. Among them was the home of a Hispanic family, at least three generations living in what I can only describe as Third World squalor, right there about a mile from the proud dome of the State Capitol. Most of the paint had long since peeled off the exterior of their house, and the floor had great holes open to the dirt underneath; I could detect no air conditioning and no heat, but no matter the temperature the air in there had the same sour smell of hopelessness. And yet this was not the Third World at all; almost literally next door were newly renovated bungalows and spiffy new condos with Vespas or Priuses parked in front. The juxtaposition was utterly breathtaking, and utterly heartbreaking.
I discovered another such place, considerably less depressing, just a few days ago, when my friend Richard convinced me to join him and our mutual friend Dick at the Little Elmore Reed Blues Band's weekly gig at TC's Lounge on Monday night. The band was scheduled to go on at 10, so Richard suggested we meet at our church (rock and roll, baby!) at 9; he would drive Dick and me over to the club, since neither of us had been there before, and he even promised to leave after the first set so we'd be home by midnight.
Austin likes to bill itself as "The Live Music Capital of the World," which has always struck me as a wee bit pretentious, though the city does support a rich and thriving musical culture. Among the legendary local musical assets, both current and departed, are performers like Willie Nelson, the Fabulous Thunderbirds, Alejandro Escovedo, Joe Ely, Jimmie Dale Gilmore, and Asleep at the Wheel; venues like Antone's, the Armadillo World Headquarters, the Continental Club, the Cactus Café, Threadgill's, and the Vulcan Gas Company; and the annual South by Southwest conference and ACL Music Festival. But this musical bounty is largely wasted on Heather and me.
Oh, we attended a modest number of shows over the last thirty years (I more than she, given her aversions to loud noise, smoke, and crowds), but more recently, as middle age has crept up on us—or, more accurately, leaped upon us unexpectedly, howling like a banshee—we've left the live music to the younger crowd and the occasional eccentric friend like Richard. I think the last show we saw featured Los Lobos and a reunited True Believers at Antone's. It was amazing: amazing because we love both those bands, amazing because it was perhaps the loudest concert we've ever attended, and amazing because we couldn't believe that the guy puking copiously into the garbage can next to us managed to stay more or less upright for so long. What fun!
In part as a result of such experiences, I've spent years turning Richard down when he asks me to come out with him to hear music. I always feel guilty about saying no, though, so when he told me about this outing, I took a deep breath and said yes—I'm still not sure why. But once I said yes, I was fully committed; I even took an afternoon nap, as Richard suggested. (My usual bedtime is 10 p.m., and things can get pretty ugly the next morning if I'm up much later than that, as our dogs and cats expect us to be up and moving by or before 6 a.m.)
TC's Lounge is an unprepossessing (perhaps "ramshackle" would be a better word) spot on Webberville Road. It serves beer and setups, though most of the crowd bring their own bottles of harder stuff. The Little Elmore Reed Blues Band's Myspace page describes it as "the last real old school blues dive remaining in Austin" and adds,
Bands work for love and tips. There's no air conditioning and heat is provided by the mass of human bodies. There's not a level surface in the place and when the joint gets to rockin' you can actually feel the building move. It's perfect.
The dirt parking lot was still mostly empty when we arrived. We paid the five-dollar cover charge and grabbed three seats at a table near the front; I soon discovered that my jeans were virtually glued to the metal folding chair by some sticky substance I hadn't noticed before sitting down. (A part of me really wanted to know it was, but another part of me really didn't want to know.) Dick bought the first round: club soda for Richard, who's a teetotaler, and beers for the rest of us.
Soon the room began to fill up with young hipsters (I was the youngest of our trio, and we three senile delinquents substantially raised the median age), and eventually the members of the band straggled in. The regular lineup includes founder Mark Hays (a veteran of the Gary P. Nunn, Smokin' Joe Kubek, and Guy Forsyth bands, among many others) on drums; Pat Whitefield (a founding member of the T-Birds and a member of the first house band at Antone's) on bass; Willie Pipkin (South Austin Jug Band) and Mike Keller (Marcia Ball, Double Trouble, the T-Birds) on guitar; and Katrina refugee Dale Spalding (Snooks Eaglin, Canned Heat) on vocals and harp. It turned out that Keller was absent tonight, but Eve Monsees, a young guitar-slinger, sat in for him. Whitefield stopped by our table to shake Richard's hand, and I took the opportunity to tell him that our mutual friend George Jones (no, not that George Jones) had asked me to say hello.
The music was great; these guys know their stuff, no doubt about it. They played a few originals, but mostly covers of the great old blues and R&B classics like Chuck Berry's "You Never Can Tell," Little Walter's "My Babe," and the Falcons' "You're So Fine." The dance floor filled up almost immediately: there were a few couples doing some serious swing dancing, and also a lot of really, really drunk people attempting what Dick delicately called "vertical copulation." I was particularly amused by one young gent, somewhat the worse for wear, who was dancing with a statuesque young woman, in somewhat better shape; his hands kept sliding south of the border, so to speak, and every time they did she'd patiently reach back and move them back up to a more acceptable latitude. Dick pointed out an attractive blonde who drained most of a bottle of Woodford Reserve bourbon straight from the bottle during the first set, and during the break, as were leaving, I noticed another young woman, in a red and white cocktail dress, wandering the parking lot swigging from a bottle of red wine. The air was a thick fug of amplified music, sweat, booze, and lust. This, I realized, is probably as close as most of us in this predominantly white crowd would ever come to the kind of legendary Mississippi Delta juke joint so beloved of scholars and fans in search of the "authentic" blues.
Two well-dressed young women, one blonde and one brunette, came and sat down at the next table; a slightly older, but even more beautiful, woman soon joined them. Eventually, the blonde stood up and asked Richard (the only unmarried member of our trio) to dance, and when the first set ended he went and sat with them. At this point Dick and I wondered if we should start thinking about alternate means of transportation, but with a concerted effort we were able to drag him away from those Jezebels. (No, no, Richard, no need to thank us; that's what friends are for.) I finally made it home, bleeding only slightly from the ears, by about 12:15.
A couple of days later, Dick commented, "Well, that was just great, from a musical standpoint, an ambience (pardon the expression) standpoint, and especially a people-watching (girl-watching) standpoint. I'm up for going back."
Me, too, Dick. Even though Tuesday morning was kind of rough, I suspect it does a body good to wander off the map every once in a while. Just please don't tell Richard I said so.
What we're reading
Heather: Colm Tóibín, Brooklyn
Martin: Arthur Phillips, The Tragedy of Arthur